Cooking can be a challenge for kids who don't love their food all mixed together, but these easy Instant Pot recipes are PERFECT for kids…even those with strong opinions about what they do and don't eat!
Easy Instant Pot Recipes
I love having a handful of really great Instant Pot recipes to turn to for busy weeknight meals that deliver on nutrition, flavor, and appeal to everyone in the family.
And while it's hard to find a recipe that everyone likes, these 10 healthy Instant Pot recipes are perfect for families.
So even if you just pick one to try, that's one more easy family dinner than you had before!
1. Instant Pot BBQ Chicken
We love to use this tender shredded chicken (which takes just two ingredients!) in sandwiches, though you could also serve it over a grain or with buttered noodles. Add a simple veggie on the side and dinner is ready!
Easiest Instant Pot BBQ Chicken
You can double this recipe and use 2 pounds of chicken if desired. Just do your best to spread it into an even layer in the instant pot. (Note: The nutrition facts will vary based on the bbq sauce that you use.)
Get the recipe
2. Chicken and Rice Burrito Bowls
My husband and I love this dish as a burrito bowl and my girls love it as quesadilla filling. Both ways are easy and delicious.
Recipe: Instant Pot Weeknight Chicken and Rice Burrito Bowls
These also make for great leftovers and are super easy to customize with toppings.
Get the recipe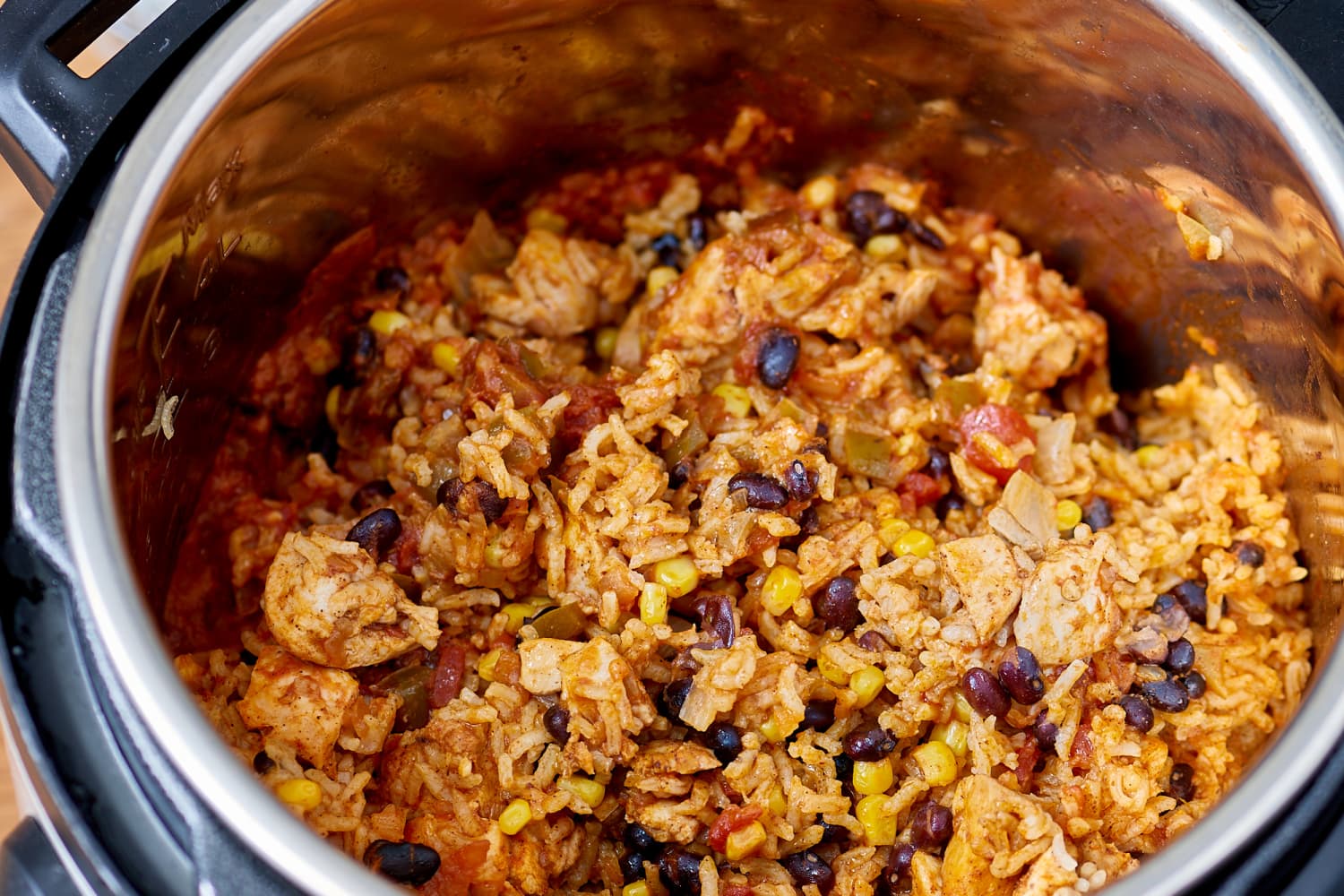 3. Instant Pot Chicken and Bean Tacos
I've made this recipe twice recently and it's so easy and fast—especially if you use precut veggies from the store. (P.S. We love the leftovers over rice!)
Slow Cooker Chicken and Bean Tacos
With a short ingredient list and a veggie-loaded sauce, these Slow Cooker Chicken Tacos are such a delicious family meal. (You can even make it in the Instant Pot for dinner in just 25 minutes.)
Get the recipe
4. Instant Pot Mac and Cheese
Stir some frozen peas or steamed broccoli into this finished mac and cheese and a healthy family dinner is ready to serve.
Recipe: Instant Pot Macaroni and Cheese
Trust us on this one. It's so easy and so super delish.
Get the recipe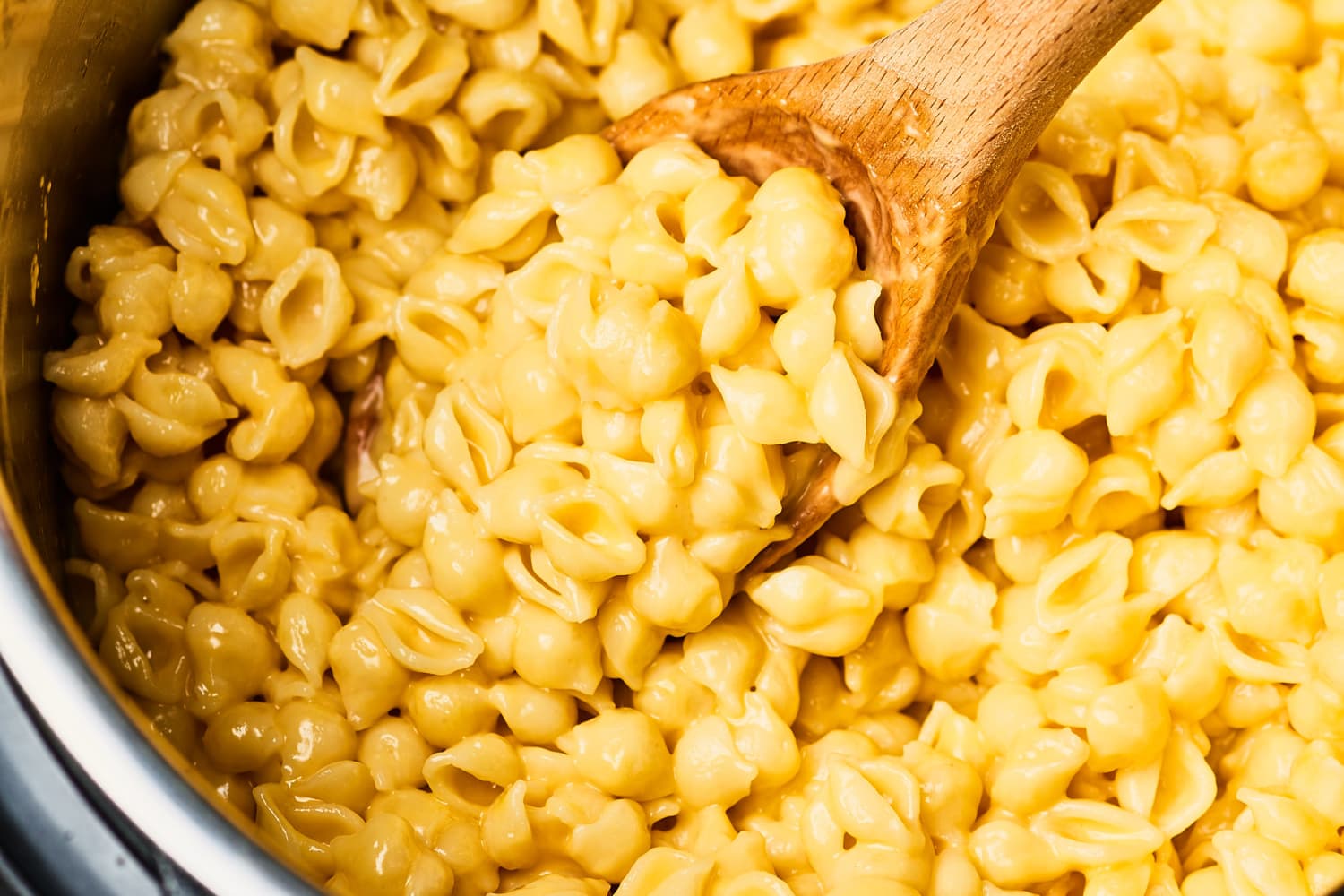 5. Perfect Instant Pot Pinto Beans
Transform inexpensive dried beans into super tender and flavorful taco beans—or beans for burritos, grain bowls, or refried beans—with this super simple method. It's almost as easy as opening a can of beans from the store!
Perfect Pinto Beans Recipe
You can double this recipe to cook 2 pounds of dried beans at once. Just increase the water to 12 cups.
Get the recipe
6. Moroccan Spiced Chickpeas
These flavors might be new for the kids, but pair this with some pita bread, plain yogurt, and sliced cucumbers, and everyone is sure to be happy! (It also works as an easy freezer meal.)
Recipe via Pinch of Yum
Freezer Meal Spiced Chickpea Bowls
Freezer Meal Spiced Chickpea Bowl: clean eating meets comfort food! Dump it all in a bag, freeze it, and make it for dinner in a snap.
Get the recipe

7. Instant Pot Butter Chicken
I love this recipe so much we have it at least once a month with rice, an easy veggie and a side of naan or pita. It's great because it's flavorful and easy, but the chicken is also super moist and easy for little kids to chew.
Easy Instant Pot Butter Chicken
Forget takeout—deliver this popular Indian dish to your table instead. Shredded chicken thighs are coated in a rich, buttery sauce with hints of tomatoes, ginger, and garam masala—a messy but very flavorful finger food. Adapted from The Multi-Cooker Baby Food Cookbook.
Get the recipe
8. Loaded Baked Potato Soup
Put out an assortment of toppings and let everyone customize their own bowl!
Recipe via Bless this Mess
Loaded baked potato soup… in under an hour.
That wasn't a typo. This Instant Pot Loaded Baked Potato Soup is a breeze to throw together and makes for a delicious feast any night of the week.
Get the recipe
9. Instant Pot Channa Masala
This veggie-loaded sauce is just flavorful enough to be yummy for parents, but not too much to overwhelm the kids. It's an easy vegetarian meal to share with the family.
Instant Pot Channa Masala with Rice
If you can't find garam masala, you can leave it out, though it adds authentic flavor that you'd expect if you've eaten Chana Masala in a restaurant. This will likely make enough for two meals—I like to freeze the second half for a future week.
Get the recipe
10. Instant Pot Spaghetti
I still can't believe that it's possible to cook this whole meal in the Instant Pot, but it's just so good! (And easy, which is key come 5:30 pm.)

Recipe via The Kitchn
How To Make Instant Pot Spaghetti
Trust us: This is best (and easiest!) thing you'll cook in your Instant Pot this year.
Get the recipe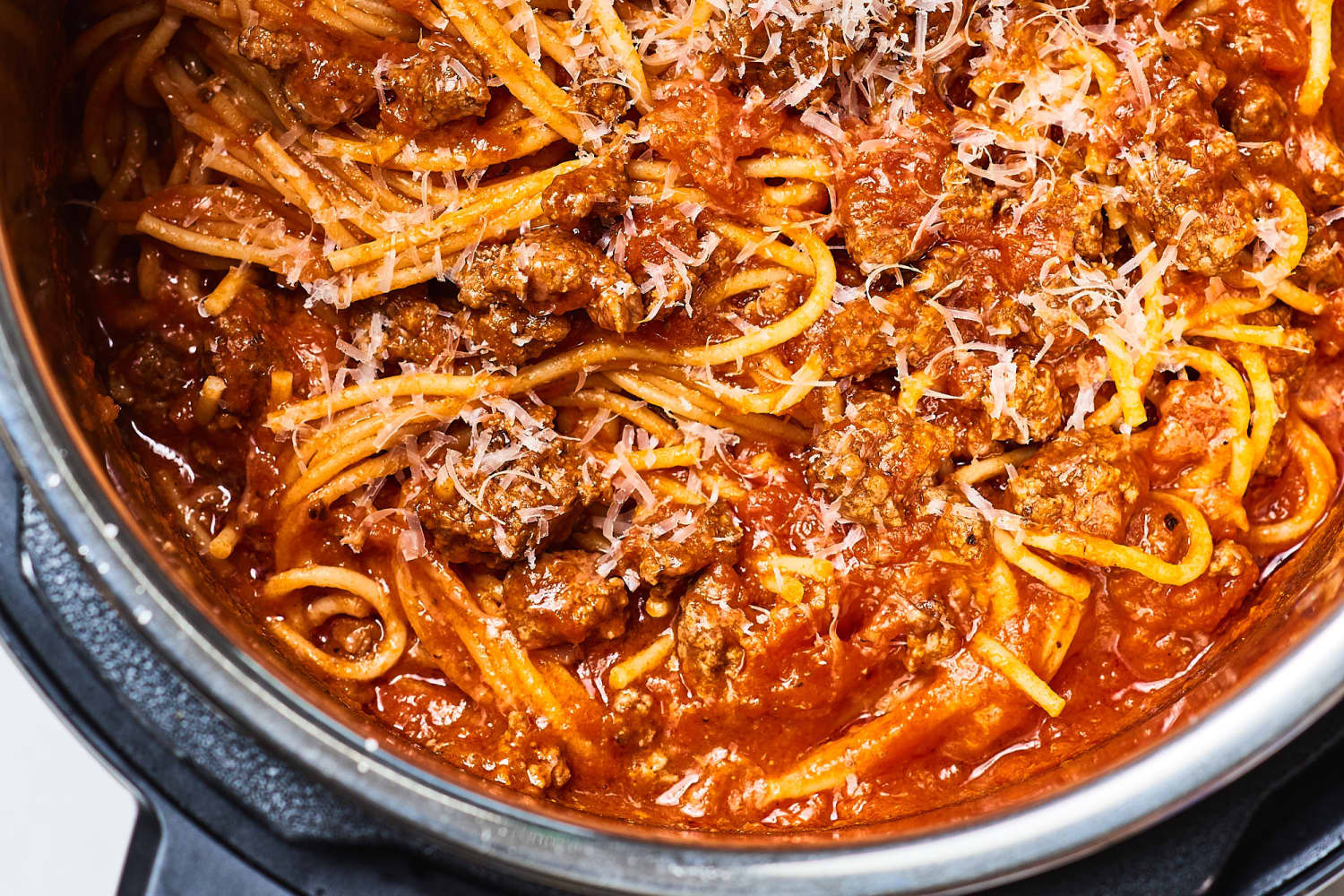 11. Instant Pot Black Bean Soup
The IP version of my Slow Cooker Black Bean Soup is easy, delish, and perfect healthy comfort food. This is one bean soup that my girls adore! (My son is still learning to like it, but I'm hopeful!)
Slow Cooker Black Bean Soup (with Instant Pot Option)
The addition of grains helps to thicken the soup to a nice consistency for little eaters, so don't be worried if it's pretty thin before you add them in before serving.
(This post was updated and the recipe was streamlined November 2020. You can get the
original recipe here.)
Get the recipe
12. Instant Pot Chicken Noodle Soup
This is one of our favorite soups and it's so fast to make. You can find it in my Happy Family Meals meal planning system.
You May Also Like
What's your family's favorite instant pot meal? I'd love to know if you can drop it into the comments below!
This post was first published January 2021.